Well, that was quick and relatively painless. England have retained The Ashes again, beating Australia for the third series in a row to ensure that special urn did not head half way across the world just yet.
However, the Three Lions have not got long to celebrate another famous victory, as the Aussies are sure to be out for redemption when The Ashes head onto their turf
this November
.
While the England team is sure to feature a quite a few players who have helped make the ongoing Ashes series an entertaining spectacle, here are some upcoming players who could make a name for themselves this winter:
Stuart Meaker
Australia's batsmen are certain to be left sweating if Stuart Meaker is gifted his England Test debut during the 2013/14 Ashes in Australia.
Simon Jones and Darren Gough are two names that have been linked to Meaker, due to his short bowling run-up and low trajectory being matched up with a blistering pace.
On top of this, the Pietermaritzburg-born fast bowler has captured plenty of attention due to his ability to swing the new ball away and extract movement from the old ball.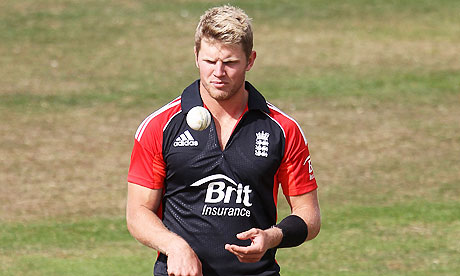 Stuart Meaker hopes to play a part in the Ashes.
Gary Ballance
Yorkshire's Gary Ballance was already in with a good shout of earning a place in the England team when the Ashes head to Australia, but his performance for the England Lions against Australia recently has put his selection almost beyond doubt.
Up against an Australian side who were already distressed from their dismal performance in the first four Tests of the 2013 Ashes, Ballance rubbed salt in their wounds by hitting an incredible 104 runs, including 16 fours and a solitary six.
This coming from a 23-year-old left-hander who also scored an impressive 857 first-class runs in just 18 innings over the summer up until the end of July. The numbers surely speak for themselves.
Ben Stokes
All-rounder Ben Stokes has been tipped to be the next player to come out of Durham's cricket academy and progress to playing international Test cricket for England – following in the footsteps of Graham Onions.
The 22-year-old already has a big supporter in England's bowling coach, David Saker, who recently told the
Daily Telegraph
that Stokes is "the sort of player who is ideal and that we need in our team".
"I've seen enough of Ben Stokes to know what he can do with the ball and the bat — he's an exciting player," the Australian added.
This article was written on behalf of
Decathlon
, which has a huge selection of
cricket equipment
available online so you can also start getting yourself recognised on the cricket field.